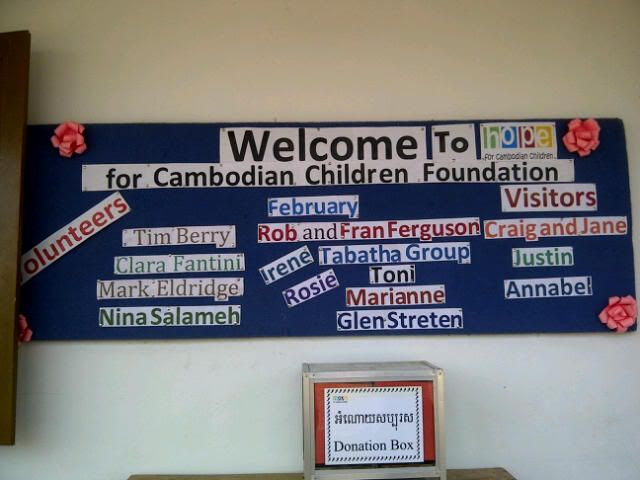 After an extremely arduous travel experience (and can I suggest you NEVER opt for the overland travel into Cambodia), I made it into Battambang about 5 hours later than expected. Luck has it that the bank claimed no responsibility for the ATM that choked on my card and hence my St. George Visa has disappeared into a South East Asian Missing ATM Card Abyss. A little more than disappointed, I exchange what's left of my U.S dollars and skimp through on what I have to pay to at least get me to Battambang.
The taxi I chose to share with others in favour of saving a few bux
ended up being a 3 hour ride shared with a basket, an old
Cambodian lady who then suddenly became a young Cambodian boy
and a young Cambodian mother and child. Oh and if you were
wondering what we did with all the spare room, factor in my massive
backpack and day pack.
Arrived at about 3.30pm to a lovely hotel and it's time for a shit,
shower and shave before I spare my tummy from eating itself.
Meanwhile, I've discovered the wonders of Skype!
For those that aren't fully aware of the purpose of this trip, I've
come here on a whim to do some volunteer work in an orphanage
that is manned by a friend of mine, the divine Mark Eldridge. Some
of you may have had the pleasure of staying at his home on the
South Coast.
So anyway, I finally meet the boys who are heavily involved in the
co-ordination, management, fundraising and day to day activities
at the centre. Dressed in their swimmers, by the pool, drinking the
night away and talking business like a bunch of gay boys who had
outgrown the years logistically but were still keen on keeping that
fire burning. They were absolutely gorgeous, DARLING!!
I've left them on their own to grab some dinner as the jet lag is
quickly catching up with me and I'm afraid I may have an eye
infection. Up at 7am tomorrow morning for breakfast with the crew
and then a day of observation out at the centre. I'm so excited!